Building a New Economy for Australia – Conference, 1-3 September
01/09/2017 @ 12:00 pm

-

03/09/2017 @ 3:00 pm

AEST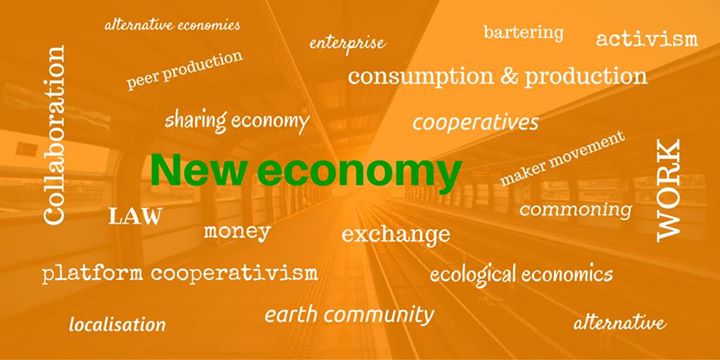 **** PLEASE NOTE THE CONFERENCE IS SOLD OUT ****
YOUR INVITATION
Please join us for a fantastic, grass-roots created economics fiesta in Brisbane from 1-3 September 2017 (Southbank) To see the draft PROGRAM and read about all the details, please go to: www.neweconomy.org.au
HOW TO REGISTER TO ATTEND THE CONFERENCE -
Please visit our online Trybooking page:
https://www.trybooking.com/book/event?eid=281640
ABOUT THE CONFERENCE
Building on the inaugural 2016 conference held in Sydney, the 2017 'Building a New Economy for Australia' gathering invites people to come together to share stories of success, address challenges and join the broader movement so we can continue working together to build a 'new' economic system. Please join us for three days of fun-filled discussions, 'unconference' working sessions, facilitated workshops, site-visits, clinics, training and learning opportunities – as well as academic presentations, debates, games and more!
The 2017 New Economy Conference will:
** Bring together hundreds of people and organisations interested in moving beyond the current unjust and unsustainable economic system that currently dominates Australian society
** Enable people to share, learn, listen, play, and work together to
co-create a strong, vibrant economic system that's fair for all Australians and cares for our precious natural environment
** Launch a New Economy Network for Australia
** Create sessions for conference attendees to co-create powerful new collective strategies for creating positive
social and economic change, to achieve long term, liveable economies that fit within the productive capacity of a healthy environment
The Conference will be a mix of planned sessions and open spaces (unconference space) for people to share, learn, listen, play and work together.
CALL FOR PROPOSALS IS NOW CLOSED
TOPICS THAT WILL BE COVERED AT THE CONFERENCE INCLUDE:
** Indigenous economics - First Nations Peoples initiatives and projects
** Ecological economics - sustainability, degrowth/challenging growth, ecological limits and the steady state
** Population issues in the New Economy
** Consumption, production, sharing, 'making', remaking and repairs
** Distributed manufacturing - re-localised production to support community economies
** Platform cooperatives, blockchain and community asset sharing
** Feminism and the new economy
** Food and food systems in the new economy
** Law in the new economy - regulation, governance, legal services for the New Economy
** Diverse forms of ownership - including the commons, cooperatives and community ownership
** The future of work - labour, unions, work-life-balance
** Money, finance and alternative currencies
** Energy - community energy, renewable energy, distributed systems
** Post-extractivism - economics beyond large scale mining and resource extraction
SESSIONS AT THE CONFERENCE WILL INCLUDE -
** Academic papers (PhD students and Early Career Researchers are encouraged) – 15 minute presentations
** Practitioner papers - 15 minute presentations
** Panel discussions and facilitated workshops - 20 to 50 minutes
** Problem solving clinics, training, professional development - up to 50 minutes
** New Economy Lab - propose an experiment to conduct with willing participants (e.g. it could be about currencies / sharing systems, etc.), before, during, or after the conference, and use a 50 min conference session to review it or start it
** New Economy Change Projects - 50 minute sessions for those who want to propose specific social change projects and who intend to continue these projects after the conference (and stay connected to the New Economy Network)
** Discussion groups, arts projects, debates, working group meetings - 50 minutes
** Facilitated games - 30 to 50 minutes
** Short performances, creative interludes or interventions – 5 to 10 minutes
** Posters
UNCONFERENCE/OPEN SPACE SESSIONS
You can also come along to the conference and propose an 'unconference' or open space session. These spaces will be available on Saturday 2nd and Sunday, 3rd September
Emails to: neweconomy@earthlaws.org.au
Conference website: www.neweconomy.org.au